Shipping Services
The Office BOSS does shipping!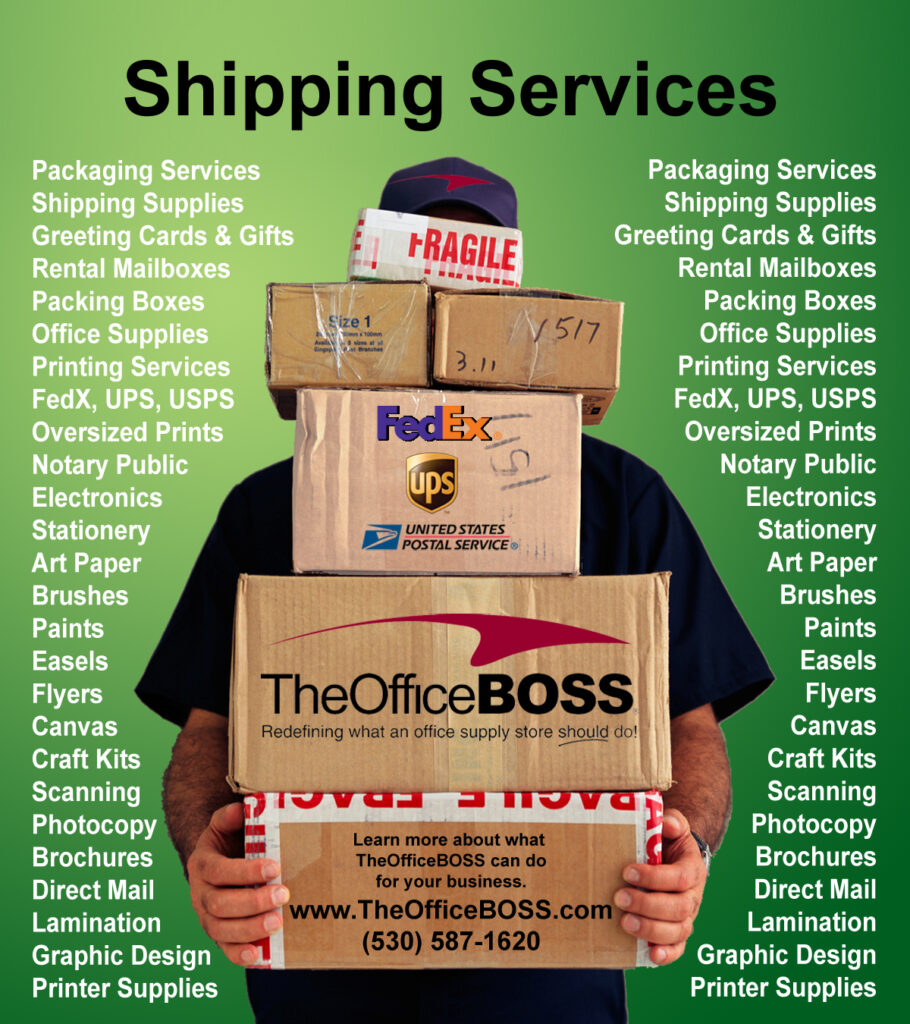 The Office BOSS Authorized Shipping for FedEx, UPS, DHL & USPS at two locations in Truckee and one location in RENO.
  The Office BOSS Truckee Mail Center (Conveniently located next to the Truckee Safeway)
  The Office BOSS Shipping Services & Supplies (Located around the corner from Raley's, near the Truckee Airport)
  The Office BOSS Lakeside Mail Center (Located on the corner of Lakeside and Moana in Reno, next door to the 7-Eleven)
---
YES!!! We can accept packages on your behalf! Please call the location you plan to ship to, and let us know that we should be watching for your parcel. We'll need your name, email, and phone number. We will (call) contact you when your package arrives. There is a $5.00 fee per package per day for this service.
PLEASE NOTE THAT WE CANNOT ACCEPT PACKAGES VIA USPS EXCEPT FOR OUR MAILBOX CLIENTS. We require a FORM 1583 on File in order to accept mail or parcels delivered from the US Postal Service; in order to do that, you must have a private mailbox set up with us.
---
Need to open a Private Mailbox?

For more information, contact The Office BOSS Mail Center:
  (530) 587-1620
Packaging Services
Professional & efficient, Office BOSS packaging is done in accordance with each shipper's requirements
Notary Public
Get your documents notarized and mailed in one visit. Mon – Fri 9:30AM – 5:00PM; Saturday 10:00AM – 2:00PM. No notary on Sunday.
Greeting Cards
From the sentimental to the hilarious, the Office BOSS has just the right unique card.
Rental Mailboxes
By the month or by the year, Office BOSS rental mailboxes are far superior to the USPS version!