"Best Boss" of Truckee / North Tahoe 2021 Winners and Runner-ups
Several Truckee-Tahoe local bosses were honored last Saturday evening at the Fifth Annual Best Boss contest sponsored by The Office BOSS Truckee Mail Center.
"This year we received over 30 nominations and the way I look at it is that every boss who was nominated is a winner – they each have made a difference to someone's life," Carrie Ridgel, co-owner of The Office BOSS told the audience of nominees, nominators and friends at an award ceremony on Saturday, October 16 at The Office BOSS Truckee Mail Center.
Our judges include 3 of our region's long-time leaders. President of Mountain Hardware and Sports, Doug Wright; Truckee Fire Protection District Battalion Chief, Laura Brown and CEO of Visit Truckee-Tahoe, Colleen Dalton. After individually considering each of the 30 nominations, the judges met to attempt to align their ideas of who will be this year's winners.
Honorable Mention awards were presented to: Shanna Kuhlemier of Truckee Donner Public Utility District, Joanna Mitchell of North Tahoe High School, Ryan and Shannon Parrish of Truckee Grocery Outlet, Rachel Graff of TreMigo, Mayumi Elegado of Moonshine Ink, Russ Jones of Truckee River Winery, Diane White of Donner Lake Realty, Brian Marsh of Marsh Ventures Inc. (TNT Materials and Rock Garden), William Reid of Como Restaurant, Brett Williams of Agate Bay Realty, Sarah Fey of Design Bar and one of our very own dedicated employee's Jackie Moritzky of Lakeside Office Boss Mail Center.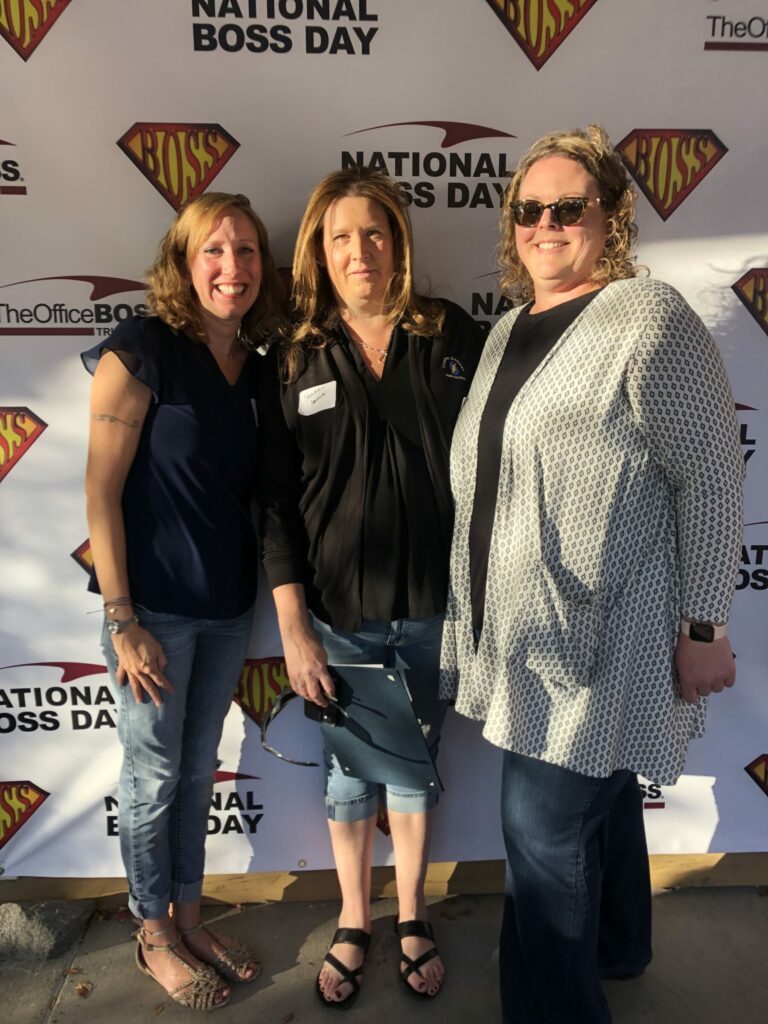 As first runner-up, the judges selected Kristin York of Sierra Small Business Development Center, nominated by Erika Harvey, Project Manager and Jessica Perry Carr, Associate Director at Sierra Small Business Development Center. Jessica wrote "Kristin leads us by example, truly demonstrating an impressive work ethic but always encouraging us to work hard and play hard." Our second runner-up, the judges selected, Joshua Ruppert of Johnson Iron, Inc. Nominated by Lesley Nordahl and the entire team, Lesley wrote "Josh has contributed significant time, materials and labor to local beautification projects, such as the new train station at the Truckee River Railroad. Josh has a reputation for giving people first, second and third chances."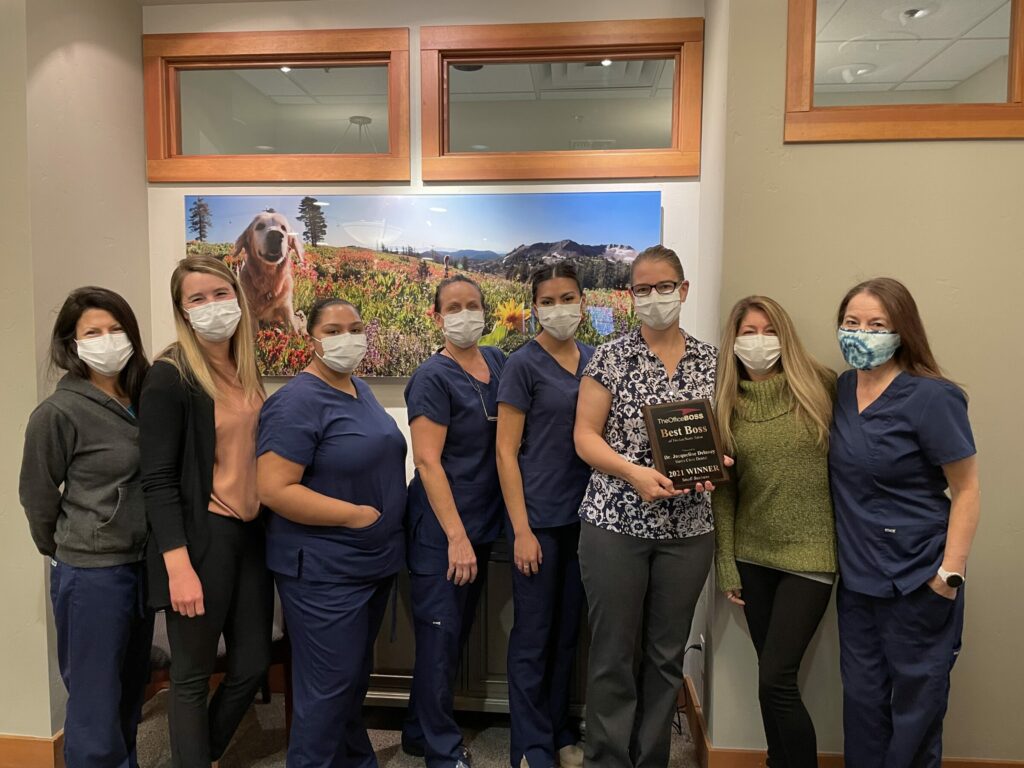 Our winner for small business Best Boss of 2021 and winner for a team lunch at Fifty-Fifty Brewing Co., is Dr. Jacueline Delaney of Sierra Crest Dental. Receiving 3 heartfelt and detailed nominations from Jamie Burge – Dental Hygienist, Haley Roblez – Scheduling Coordinator and Evelyn Mora – Dental Assistant. Jamie wrote" She has been an amazing leader through all of the new Covid guidelines which made me feel safe when I returned back to work." Haley concurs, and adds" Dr. D is a very caring soul. She gives back to our community and beyond each quarter with monetary donations. I genuinely look up to her, not only as my boss but as the generous & hilarious individual that she is. I admire her professionalism, talent, and dedication to our team and patients (and even her perfectionism!)"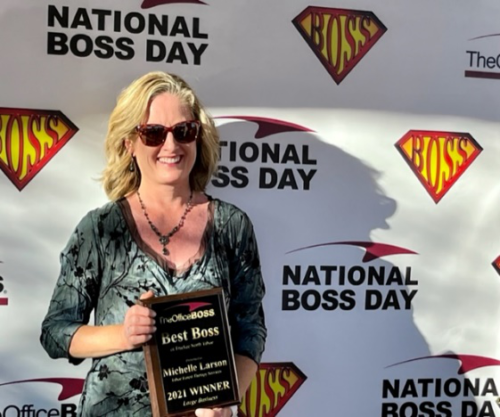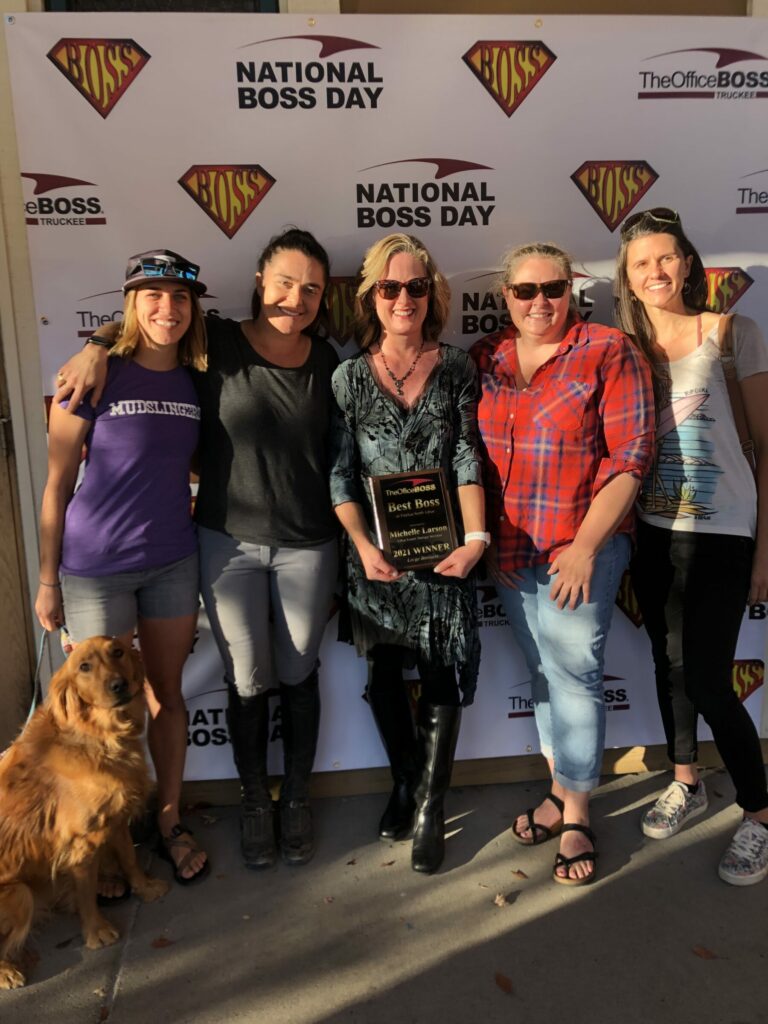 Our winner for large business Best Boss of 2021 and winner for a team lunch at Fifty-Fifty Brewing Co. is Michelle Larson, Clinical Director of Tahoe Forest Therapy Services. Receiving an astonishing 10 heartfelt and detailed nominations from Susie Good, Lynette Talbott, Taylor M., Jillian Davison, Ashly Gillis, Colleen Milligan, Chelsea Crumback, Chantal Davis, Kyla Russell and Jesse Fereira. Here is a few of sincere quotes they had to say, "she has the kindest, most generous giving heart," "as a boss she is always positive," "she is always there for you when needed. She is always encouraging. She listens to our frustrations and concerns and helps us problem solve. She is a true leader. "She is the best because she knows each employee on a professional level and always interacts with them on a personal level (we are not just a number)."
Initially inspired by national boss' day (October 16), the Best Boss of Truckee/North Tahoe contest was created to recognize locals who are inspiring, motivating, and making a positive difference in their employees' lives, thus making our community a better place.
"Even with this being our 5th year of sponsoring the Best BOSS competition, we are continually amazed at the depth of appreciation shown by each of the well thought-out and carefully crafted nominations that convey the wonderful qualifications of our community's great bosses." said Ridgel as she presented the awards. Visit TheOfficeBOSS.com to see a full list of the awesome bosses nominated for Truckee/ North Tahoe's Best BOSS.